While I was growing up my dad was an over the road truck driver and my mom and I would travel with him sometimes. Over the years I've really covered some ground! Here's a break down of what I remember from each of the 26 states I've been in:
Alabama – I lived there for 4 months.
Alaska
Arizona – Visited my Uncle there as a child.
Arkansas – We had family vacations in Bull Shoals.
California – Visited as a child and went to Disneyland then as an adult visited family and went to Universal Studios.
Colorado – My favorite state! Born and lived for 9 years. Love to vacation there.
Connecticut
Delaware
Florida – Visited family as a child in Daytona Beach.
Georgia – Visited a friend there in Atlanta.
Hawaii
Idaho
Illinois – My Grandmother lived in Chicago.
Indiana – My Aunt lives there and visited passing through.
Iowa – Been though when going to Omaha.
Kansas – Live there now!
Kentucky – Lived there as a pre-teen.
Louisiana – Drove through as a child but don't remember it much.
Maine
Maryland
Massachusetts
Michigan – As a child, tried skipping a rock into lake Michigan but it hit my mother in the head.
Minnesota
Mississippi –   Drove through as a child but don't remember it much other than the cotton fields.
Missouri – Uhhh been here many times, shopping in St Joe & Kansas City.
Montana
Nebraska – Lived here for 19 years.
Nevada – As a child we went to an airshow in the desert.
New Hampshire
New Jersey
New Mexico – As a child, went on road trip there. Also part of 4 State corner.
New York – Been here on a truck driving trip with dad. I remember a car burning on the side of the highway.
North Carolina
North Dakota
Ohio – Family lived here, went to church camp.
Oklahoma – Passed through while driving to Dallas.
Oregon
Pennsylvania – Drove through as a child
Rhode Island
South Carolina
South Dakota – Drove with a friend to do a custody swap with her ex.
Tennessee – Drove through and visited Nashville.
Texas – Been to MK conventions in Dallas.
Utah – Drove through as a child, sat on a hill of salt the salt flats.
Vermont
Virginia
Washington
West Virginia
Wisconsin
Wyoming
24 more to go! I'll update this as I get to them.
After designing the custom map above I found this site www.defocus.net/visitedstates that has a brilliant color coding idea:
Red means I've just passed through, maybe seen a thing or two.
Amber means I've at least slept there and seen a few things. I have a first-hand idea of what the state is like.
Blue means I've spent a good amount of time in that state.
Green means I've spent a lot of time in that state, weeks at at time on multiple visits – or lived there.
So I made one there too and updated my map above:
There is also this version if you want it simple: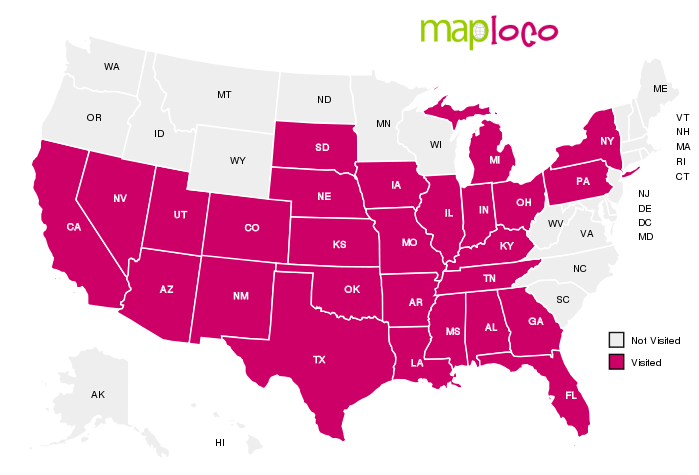 Where have you been? Create Your Own Visited States Map here or Here and share your link in the comments below.